It's True. Brain is coming to the Blockfort Gallery this March. We are super excited for this exhibition and are really going to stretch or capacity in understanding brain activity, thresholds, infrasound, Pressure, Pleasure.
The Brain is a fascinating mechanism made up of networks upon networks of information that encode and transfer and bring cellular structures to life. OBLSK is designing a sculptural installation that incorporates sound, light, imagery, and biometric data. Using an EEG brain sensor we are looking at how the brain reacts to the sounds and images that are presented before us and how these images and sounds change based on the participants electrical activity of the brain. From a conceptual standpoint they explore how technical interfaces are being used to monitor human cognition.
Opening Reception: March 7, 2019
On view: March 7 - 31, 2019
Godspeed is still in the works as director Celia Peters keeps experimenting with new platforms for it to exist. She will be showing a virtual reality version at the Wonderball event at the Columbus Museum of Art on January 26th. OBLSK has the pleasure of designing a hologram animation for the White Castle dinner scene. More to come soon...
OBLSK is embarking on a series of videos that encapsulate the inner workings of Phia Concept a salon based company out of Columbus, Ohio. Both Phia Salon and Philosophi, two of their successful salons embrace their concept. We will keep you updated on the best of the best as we enter 2019 from this awesome company.
Wakka Wakka: Animal Riot-
Wakka Wakka is by far one of our favorite puppet companies. Their wild storytelling style with intricate puppet characters takes the audience into surreal landscapes. Animal Riot a web based art piece that brings together their knack for storytelling through short videos and experimental workshops. We will keep you posted when the Animal Riot web page goes live!
ZenGenius employs the best designers and merchandisers to elevate your space to the next level to drive consumer traffic. They provide expertise in visual merchandising, event merchandising, creative direction, visual operations, and seminars and workshops.
Wanna know a few tricks to the trade? We will be creating Visual Merchandising training video this year! If you work in the Visual Merchandising world these videos will be a must see!
The journey of water through our Earth's landscapes is a fascinating tale. Water, the source of all living things takes on many forms and has fascinated humans since our existence. In our current world water is on everyone's minds as we hear of our Arctic deserts melting into the sea, raising the sea levels. The Nansen Shelf located in AntArctica is an impressive Ice Form that is telling the tale of the direct impact of climate change. On the edge of this shelf is massive waterfall that is growing, draining the melting sheet into the ocean. The raw power of this waterfall is impressive and the impact of this cascading motion is truly noticeable and eye awakening. What are these Waterfalls telling us?
Forever in human existence we have followed the rivers. Our ears are in tune to the sound of moving water. Waterfalls are distinct in their auditory impressions. The fullness of sound that literally fills the space with resonance and sound waves. The power of the waterfall is humbling as the sheer magnitude of Gravity and force that seems unstoppable. The sound and sight of the waterfall creates a space of spirituality where the mind becomes inundated with the many frequencies that are playing out at equal intensities. In other words A waterfall produces white noise.
Through projection and sound, OBLSK has created Waterfall as a space where the viewer can immerse themselves into the sight and sound of the Falling Water allowing the stress of the day to be washed away.
Franklin Park Conservatory and Botanical Gardens is Central Ohio's premier botanical garden and home to the iconic John F. Wolfe Palm House which dates back to 1895. The experience consists of botanical biomes, lush gardens, special horticulture and art exhibitions, and seasonal offerings. A collection of glass works by artist Dale Chihuly and light art by James Turrell are also on display and included with admission.
is a multimedia artist, working in film, performance, electronics, sculpture, and light. She is a concept storyteller who creates interdisciplinary teams that explore topical issues through research, social experiments, and community engaged artworks.
is a filmmaker, inventor, researcher, and artist. He uses a combination of creativity, technical know-how, and a love for working collaboratively to create finely crafted moving art and media that tells a story with a purpose.
is a designer, filmmaker, and graphic artist. With a BFA from Columbus College of Art & Design in Film and Video, her specialty is in media and graphics.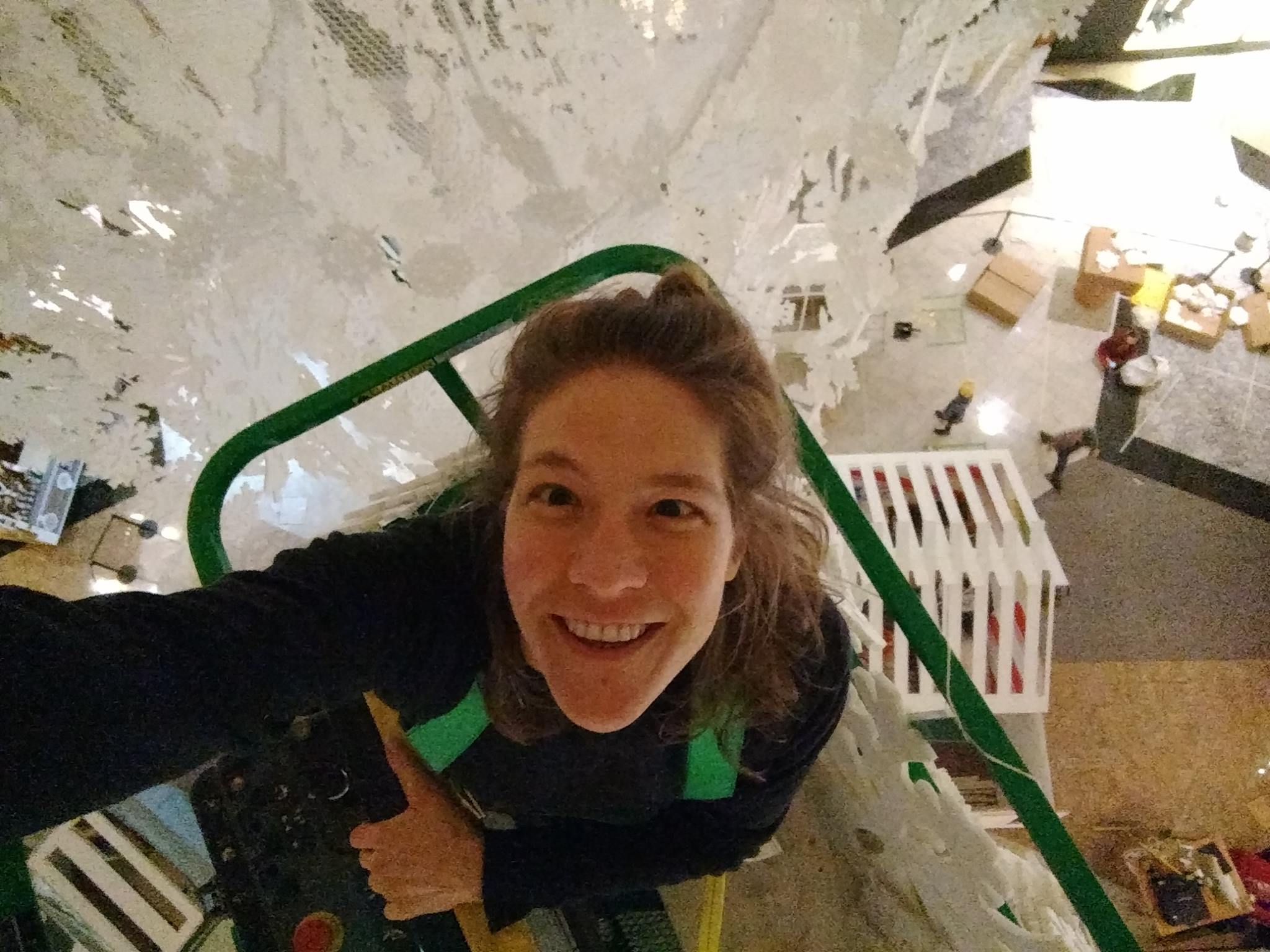 She sees creating art as one way humans have evolved to advertise their genetic fitness. She's dabbled in several different mediums from painting, dance, video, performance, and so much more.
is a production artist who's great at collaborating from concept to completion offering support in the structural design, problem solving, and aesthetic. His dedication to these projects made building them more manageable and more fun! His good nature and spirit really eases the heavy lifting that comes from these amazingly large installation projects!
is a Production Artist and professional Painter.
Nicky - is a Textile Artist along with production and installation master!
Twas the night before Christmas and all through SantaVille, mice were stirring. Join us for a jaunt through SantaVille where you get to see how the reindeers bathe, or the bakers dance, or even how Santa does his laundry! Be sure to check out the secret views into Santa's workshop and if you think like a mouse and see like a mouse, you may even Spot the real Santa before he sees you!
Ignite your senses this holiday season as you journey through Santaville! The experience is brought to life through interactive rooms, light and video installations, and projection mapping. Explore Santaville and its gallery of rooms to discover color, smells, clues, and hidden gnomes! The experience is exciting with delightful surprises leading up to the moment you meet Santa Claus. Be sure to look through the mouse doors and through the many peepholes to find something new. Bring your family to Polaris to tell your wish list to Santa. The Holiday decor is made from sustainable materials and has been designed, produced, and manufactured here in Columbus, Ohio.

Thank you to all the Amazing Artists that worked on this project:
eve Warnock - Creative Director/ co-founder - Producer of the Polaris Holiday installation, Pelham Johnston - Creative Director/ co-founder - Technical Director of the Polaris Holiday Installation, Lisa Woodward - Operations Manager - Facilitation and Management of OBLSK Artists and overall Polaris Holiday Project objectives and deadlines, Sarah Weinstock - Production Manager - Managed Studio Space and workshop protocols and Production artist, Stacie Sells - Marketing Manager - Managed Marketing Material and Media documenting and promoting Polaris Holiday Project, Annie Kuhn - Video and Marketing - in Charge of capturing media and content throughout the Polaris Project, Alexi Alexaieff - Media Artist - Created media for the Rotunda Projection mapping, Maxwell McEvoy - Lead Production Artist - Facilitated all areas of Artist Production. Designer of Santa's Workshop, and Elfie's Sled Repair, Nicky Fried - Lead Production Artist - Lead in Textile Arts and the production and installation of the Snowflake Chandelier. Designer of the Candy Tower, Marque Reavly - Production Artist, Microcomputer installation, Ben Satterfield - Production Artist - Designed and CNC cut Santaville. Works out of the Idea Foundry, Claire Smith - Production Artist - Production Artist, Designer of the SugarPlum baker and Peppermint Scrub Groomers, John Rettstatt - Production Artist - Production Artist and professional Painter. Painted Santa's room and all of the Shop Signs, Miles Curtis - Production Artist - Production Artist, Designer of Dasher's Dry Cleaner, Teddy Reese - Production Artist, Anna Lemasters - Production Assistant - Snowflake Chain Making, Evan Andrews - Production Assistant - Snowflake Chain Making


Panda Peace Warrior
Panda Peace Warrior created and designed by Pilgrim Heidi from Open Heart Creatures was an incredible process for OBLSK to observe. Pilgrim has a unique understanding of materials creating magic from the unexpected. OBLSK was delighted to conjure lighting in the Panda exploring how to mix colors and utilize texture to shade and highlight!
Marketing
OBLSK has been so lucky to have so many great clients and we are just continuing to grow and nurture those relationships through research, SEO, and marketing techniques. Check them out below!
Tropical Smoothie Cafe is a National Franchise that serves deliciously colorful food. From superfood smoothies to hearty wraps and flatbreads. Fresh flavorful food. Right on! OBLSK creates the digital marketing for the Tropical Smoothe Cafe's in El Paso and San Antonio, Texas. We love creating awesome content like this video below made by OBLSK Artist Annie Kuhn. Super Credits to Maxwell and Ginger!
The Windchimes Chinese Restaurant serves the best Chinese in Columbus. Hands down. We love The Windchimes and have supported their expansion with amazing Dital Marketing. If you haven't had a chance to check out the Blog page written by OBLSK artist Stacie Sells, it's a must read. It really digs into the history and flavor that makes the Windchimes an experience.
We are continuing to grow and expand and we are excited for you to come along for the journey!!!